Onna Shinkan Priestess 3D Mouse Pad Goblin Slayer Anime Mouse Pad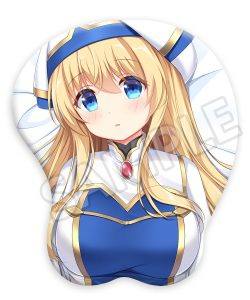 Priestess (女神官, Onna Shinkan) is the main female protagonist of the Goblin Slayer series.
After Goblin Slayer saves her life during her first adventure, she becomes the first member of his party and frequently accompanies him during adventures.
Priestess is a beautiful young woman with long blond hair and blue eyes. She is usually seen wearing white robes over blue garbs, both laced with golden outlines and wielding a golden-colored staff decorated with blue jewels.