Origami Tobiichi 3D Mouse Pad Date A Live Anime Mouse Pad
Origami Tobiichi (鳶一 折紙とびいち おりがみ, Tobiichi Origami) is one of the main female characters of the Date A Live series. She is a highly intelligent classmate of Shido who is athletic, "beautiful", and the most famous person in Shido's school.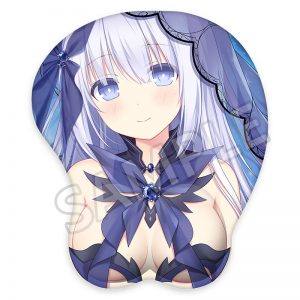 Origami is a top student in her school in terms of academics and sports. Of course, none of the student body and facility members know that she is a member of the AST, with a few exceptions unknown to her. Origami is a very skilled wizard but can lose herself in her emotions when it comes to dealing with Spirits in combat.
For unknown reasons, Origami is romantically interested in Shido. Her devotion towards him causes her to develop stalking habits such as sniffing his gym clothes. Shido is also the only person not related to any military institutions who know that Origami is part of the AST.
After being transformed into a Spirit by Phantom, she realizes that Phantom is the Spirit that made Kotori into a Spirit. She concludes that Phantom probably killed her parents on the same day and travels to the past with the help of Kurumi to save them. She attacked Phantom soon after but finds out that their battle caused the attack that killed her parents. She then realized that the enemy who killed her parents was herself all along. The realization pushed her into the abyss of despair, creating the negative emotions that caused her to inverse as the time-traveling ended.