Joan Of Arc Mouse Pad Fate Game Mouse Pad 3D OppaJoan Of Arc Mouse Pad Fate/Apocrypha Game Mouse Pad 3D Oppai Breast Mouse Pads
In 1456, an inquisitorial court authorized by Pope Callixtus III examined the trial, debunked the charges against her, pronounced her innocent, and declared her a martyr. In the 16th century she became a symbol of the Catholic League, and in 1803 she was declared a national symbol of France by the decision of Napoleon Bonaparte. She was beatified in 1909 and canonized in 1920. Joan of Arc is one of the nine secondary patron saints of France, along with Saint Denis, Saint Martin of Tours, Saint Louis, Saint Michael, Saint Rémi, Saint Petronilla, Saint Radegund and Saint Thérèse of Lisieux.
Joan of Arc has remained a popular figure in literature, painting, sculpture, and other cultural works since the time of her death, and many famous writers, playwrights, filmmakers, artists, and composers have created, and continue to create, cultural depictions of her.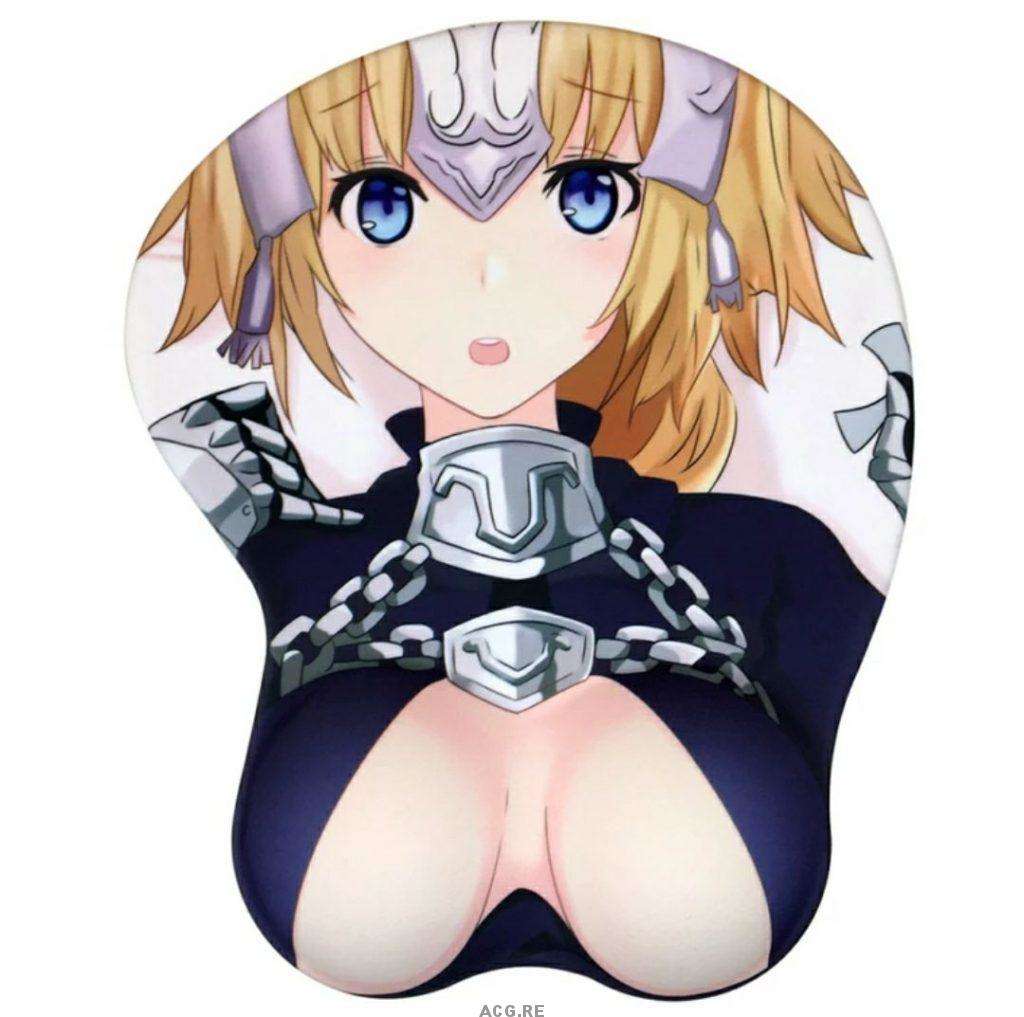 Personality
She is taciturn and cool when acting as a Servant, but her natural self is a plain and quiet sixteen-year-old girl. She puts order first, and will wield a sword for the sake of the rules, but fundamentally believes "all people and Heroic Spirits participating in the Holy Grail War are important".
Fate/Apocrypha
She retains her role as Ruler in the novel reimagining of the setting, where she is shown saying "I am Ruler, by my name of Joan of Arc. I order with a command spell that the Servants shall gather in this place!"
Fate/Zero
While the design for Joan wasn't made during the production of the Fate/Zero novels, she is referenced by Caster, whose identity is her former comrade Gilles de Rais, who, in his crazed mind, mistakes Saber for Joan. He witnesses the battle between Lancer and Saber through his magic crystal, and believing that his wish of bringing Joan back to life was granted by the Holy Grail, he succumbs to tears. He believes Saber's denial of Joan's identity is a curse laid upon her by God, that her heart has been sealed through her devotion. She who gave everything to God was not given salvation by Him, so he wishes to "free" her by proving that no such God exists.
The design was completed around the time of the anime adaptation of Fate/Zero, so it was included in Caster's flashback. Recalling his past while bathed in the annihilating light of Excalibur, he remembers events before he began his forays into murder and the occult, back when he still served alongside Joan of Arc. She is shown standing at a church altar where she turns back to Caster and gives reaches her hand out to him, making him realize the mistakes of his life before he is destroyed.